Welcome to our news and events page, where you'll find the most up to date Sylk news, and a list of all our upcoming events. Read on to find out more
Upcoming Events
Sex in the Digital Age
COSRT conference for Sex and Relationship therapists examining technology-related intimacy and attachment issues. Saturday 9th June, all day. Find out more
here.
Midlife, Menopause, Sex and Happiness 
Free evening workshop with Rejuvage in Central London. With talks from Kathy Abernethy, menopause specialist and chair of the British Menopause Society, COSRT accredited sex and relationship therapist Sarah Doherty, and Renee Denyer from the Sh! Women's Erotic Emporium. Wednesday 13th June, from 6pm find your tickets here.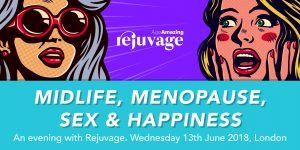 British Menopause Society Annual Conference
The British Menopause Society's annual conference for health professionals, with the latest updates in healthcare for menopausal women. July 5th and 6th, central london. Find out more and register
here.
Hot Flush talking menopause with the experts
Sat 23rd June, Dulwich "Offering a fresh take on what may help women in perimenopause, menopause & beyond." Find out more and get your tickets here.
Cancer Alliance Essex Region Breast Network Cancer Group Event
4th July.  An event for breast cancer specialists to share the latest in treatments. Find out more here.
News
We're delighted to support the rib-ticklingly funny Elaine, AKA Gusset Grippers at this year's Edinburgh Fringe Festival. Her frank, funny take on leaky pelvic floors is a riot, with a very important message- "Better orgasms and no more leaks!" Check out her website here.