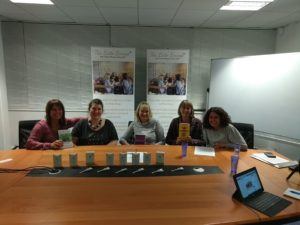 On Thursday 18th October, The Latte Lounge joined forces with Sylk Natural to co-host a Facebook Live on World Menopause Day.  
Katie Taylor (Founder & CEO The Latte Lounge)  and Nicky Gaylor (CEO Sylk) were joined by Chairman of the British Menopause Society Kathy Abernethy, Women's Health Physio Elaine Miller and Author Jane Lewis, to take questions from the 14,000 members of the Facebook group.
Commenting on the Facebook Live, Katie Taylor, CEO & Founder of The Latte Lounge said:
"It was such a pleasure to co-host this event with Sylk Natural and we were so thrilled to have Elaine, Kathy and Jane on our panel too.  We have had over 3,500 views of the Facebook Live event so far and growing daily, along with receiving hundreds of questions from our members for them, before, during and after the event.  Closed Facebook groups play such an important part in women's lives nowadays. For so long women have had to suffer in silence about their health issues, so to be able to have a place to turn to online, in order to share these worries, is absolutely life changing for many."
Nicky Gaylor, Sylk CEO agrees, saying "Menopause is finally receiving the attention it needs, so I was delighted to join forces with The Latte Lounge to broadcast this live chat with our fantastic panel members. The response has been overwhelming, which I think shows just how much women want and need events like this."
The Facebook Live gave viewers the opportunity to submit their questions about menopause and receive guidance and advice from some top specialists.
Kathy Abernethy, menopause specialist nurse, Chair of the British Menopause Society and author of Menopause: The One Stop Guide said:
"I really enjoyed the chat with The Latte Lounge and Sylk Natural Lubricant; I know women have so many questions and I enjoy answering them, so that women can be better informed and make the choices that are right for them."
Kathy was joined by Elaine Miller, pelvic floor physiotherapist, and co-founder of #pelvicroar, a women's health campaign group:
"It's so good to see discussion about menopause in the mainstream.  It shouldn't be taboo to talk about normal physiological processes – the embarrassment factor stops women from seeking help.  I was delighted to be part of this Facebook live and learned lots too!"
Elaine is also a comedian, and takes her brilliant show Gusset Grippers up to the Edinburgh Fringe in the summer, where she educates the audience on pelvic health through the medium of comedy.
For Jane Lewis, author of My Menopausal Vagina, taking part in events like this is extremely important.
"I am very passionate about the side of menopause that is only discussed in 'hushed tones', so jumped at the opportunity to be part of a panel of women discussing Vaginal atrophy. A woman's sexual wellbeing is just as important as a man's, and I hope it helped those women suffering not feel so alone, and educated those about what may happen in the pelvic area."
You can view the whole Facebook Live chat below.