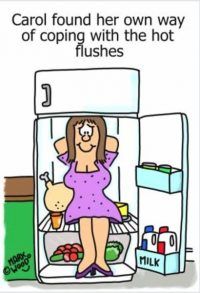 For this year's World Menopause Day we thought we'd have a think about the best foods to eat to help combat menopausal symptoms. They're also very healthy, so great for your general well-being, and super tasty too!
Eating for menopause is actually quite complex, but here are our top five findings to keep in mind if you're at any stage of the menopause.
Top 5 Nutritional Tips During Menopause
Everything tends to go a bit dry during the menopause, from your hair, your skin, right down to that oh so nasty vaginal dryness. Eating foods rich in vitamin E such as almonds, spinach and sweet potato can help keep the skin healthy, and it's absolutely vital to stay hydrated. Keep a bottle of water to hand always.
Vitamin D and calcium. Lack of oestrogen can lead to a loss of bone density in menopausal and post-menopausal women, leading to an increased risk of bone fractures. Including vitamin D and calcium rich foods can be of great benefit, and could help to keep your bones strong. Stick to oily fish such as mackerel, soy milk, kale, broccoli, legumes and some dairy products such as cheese.
It's thought that women in countries with plant based diets tend to have fewer menopausal symptoms. Scientists believe this may be down to phyto-oestrogens, which are found in soy based foods, nuts, seeds, and some pulses. Women with a diet high in these foods tend to be less prone to hot flushes, night sweats, and other associated symptoms. Worth a try!
Foods to avoid; sugar, caffeine, alcohol, starchy carbs such as white bread and pasta, and hot spices such as chilli, which can bring on a hot flush.
Legumes! Basically anything with a seed pod, such as beans, peas, nuts, and pulses such as lentils and chickpeas, legumes are stuffed full of soluble fibre, protein, magnesium, vitamin E, calcium, and phyto-oestrogens, so we think they really should be a staple in all women's diets. Super filling, and they help regulate your insulin so you avoid those mid-afternoon biscuit cravings; perfect for the waistline!
Here's an easy midweek supper idea for two:
Grilled chicken breast with green lentils, using a soy substitute cream for that extra nutritious kick.
Ingredients
1 Carrot
1 Celery Stick
1 Leek
1 garlic clove finely chopped or grated
½ cup petit pois
small bunch Thyme
small bunch Sage
2 lean chicken breasts
1 tin Green Lentils, drained and rinsed well
½ vegetable stock cube/ pot
2 tablespoons Soy cream
Method
Finely dice the carrot, celery and finely slice the leek into half-moons. Pick and finely chop the thyme and sage leaves, discarding the stalks.
Place the chicken breasts between 2 pieces of cling film and give it a good bash with a rolling pin or heavy saucepan to thin it out. Place on a lined baking sheet, season with salt and pepper, and preheat your grill to high. Leave the chicken to one side while you prepare the lentils.
Heat a tablespoon of olive oil in a heavy based saucepan, and add the carrot, celery and leek. Cook gently for 4-5 mins until the mix has started to soften, stirring occasionally, then add the garlic and herbs. Cook for a further minute.
Dissolve the stock cube in 100ml water and add to the pan along with the drained lentils and the petit pois. Leave on a low heat for 8-10mins until the stock has reduced.
In the meantime, pop your chicken under the grill for around 10mins, turning halfway. The chicken is cooked when it is no longer pink in the middle, and just starting to brown at the edges.
Add the soy cream to the lentil mixture and warm through gently. Season to taste.
Once the chicken is cooked, remove from the grill. Heap a spoonful of lentils into a bowl, and top with your grilled chicken.
We hope you enjoy this recipe as much as we do! Wishing you a happy and healthy Menopause Month