Such a lot going on today in the world of menopause. Big news from parliament today, who have rejected moves for both menopause leave, and for recognising menopause as a protected characteristic. The main reasoning seems to be that moves to do such would in theory discriminate against men.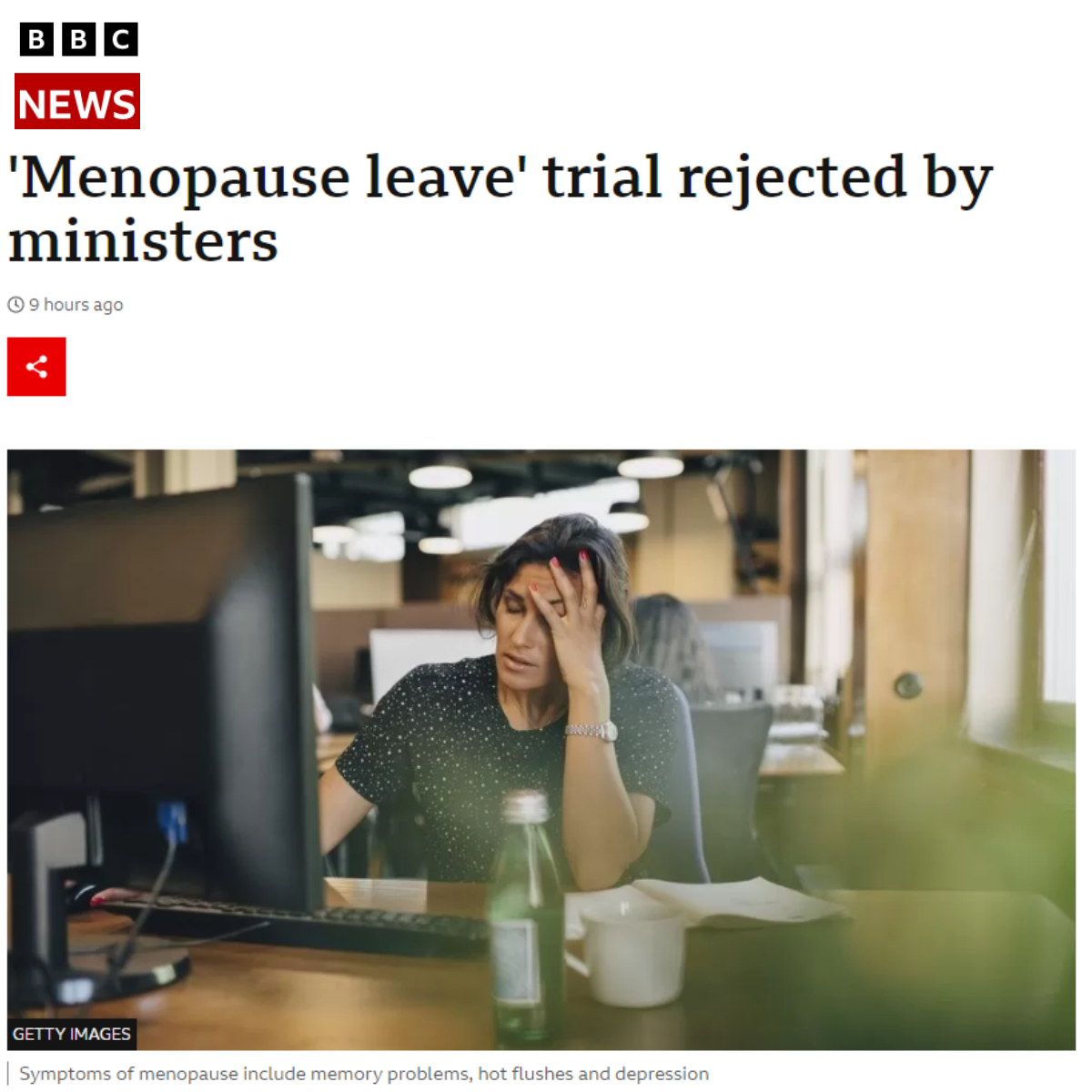 What does it all mean? Here's all the links to everything you need to understand what this means for you and other menopausal people in your life.
Official Reports
Menopause and the workplace: Government Response to the Committee's First Report of Session 2022–2023 – Women and Equalities Committee (parliament.uk)
On the radio
BBC Three Counties Radio – The JVS Show, Should women going through the menopause be given time off work?
BBC Radio 4 – Woman's Hour, Probation service, women and mesothelioma, menopause and the workplace
BBC Radio Northampton – Annabel Amos, Fostering, menopause and the 'Rushden Ritz'
BBC Radio Scotland – Mornings, with Kaye Adams
BBC Radio Tees – Scott Makin, 24/01/2023
BBC Radio Berkshire – Phil Kennedy, 24/01/2023
Check your local listings for more!
In the News
'Menopause leave' trial rejected by ministers – BBC News
Sexist attitude towards menopause policy suggests women in the workplace are 'less important', Tory MP says (inews.co.uk)
Menopause law rejected 'as it could discriminate against men' | News | The Times
Should workplaces offer women menopause leave? Vote here and tell us why… | Daily Mail Online
Government rejects calls from MPs for menopause leave trial | Evening Standard
Government rejects calls for 'menopause leave' as it could cause 'discrimination against… – LBC
Government rejection of menopause leave trial could 'drive women out of work' | The Independent
Menopause leave trial rejected by government | UK News | Sky News
Penny Lancaster 'deflated' after Government rejects menopause leave trial | Evening Standard
On Social Media
Dr Louise Newson (@drlouisenewson) / Twitter
Menopause in the Workplace (@T4W_Henpicked) / Twitter
Menopause Mandate (@menopausemandate) • Instagram photos and videos
The Latte Lounge (@lounge_latte) / Twitter
Dr Louise Newson (@menopause_doctor) • Instagram photos and videos
Diane Danzebrink (@dianedanzebrink) • Instagram photos and videos
Balance Menopause (@balancemenopause) Instagram
We'd love to hear what you think. Drop us a comment or get in touch through our social channels